LDV SYSTEME GmbH, Germany was founded in 1999 in the technology centre of Kamen. The company develops, produces, sells and supports systems for non-contact speed and length measurement based on Doppler principle. These systems are used for mass-flow control as well as for elongation measurement in all kind of hot and cold rolling mill applications.
The high motivated staff is experienced in industrial measurement techniques and serves our customers as a skilful partner for non-contact measurement applications.
Additionally LDV-Systeme GmbH is a sales and service partner of Mesacon Messelektronik GmbH Dresden for their thickness gauges based on optical, isotope or x-ray principle and for Shapeline AB for their optical flatness measurement systems.
The production of steel and aluminum is done in a harsh environment with a lot of dirt, high temperatures and steam or dust. Anyway the demand on product quality is expected to be on the highest level of technology. Especially the automotive industry – the most important customer – is looking for total quality inspection. Therefore the metals industry has to provide a top quality management with precise measurements all over the different production stages.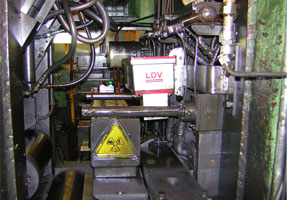 Speed differences in rolling mill application are measured by high precision Velemeter systems. The measurement results are used for mass flow application as well as for elongation ratio measurement in cold and hot mill environment.
Length and Speed Measurement for:
mass-flow control
elongation ratio
differential speed measurement
cooling control behind HSM
crop shear optimisation
coiler/roller table/flying shear synchronisation
cut to length
The Velemeter C provides highly accurate speed and length measurements and all the advantages of non-contact laser based measuring equipment. The sensors are used in mass flow application as well as for elongation measurement. As a supplementary sensor to the well established Velemeter 500 series, the Velemeter C is the more compact version but also makes use of the advantage of a He/Ne Laser tube. All new rolling mills nowadays have built-in lasers, the users of old mills know that it is absolutely essential to re-equip their old mills with new measuring and control technology.
Laser measurement is a vital factor for survival in today's fierce competition.