AMETEK SURFACE VISION is the world's leading provider of vision systems, vision software, vision sensors and surface inspection systems used in manufacturing automation. AMETEK manufactures web and surface inspection systems for plastic, paper, non-woven and metals (copper, tin, steel, aluminium)
AMETEK vision helps companies improve product quality, eliminate production errors, lower manufacturing costs, and exceed consumer expectations for high quality products at an affordable price. Typical applications for machine vision include detecting defects, monitoring production lines, guiding assembly robots, and tracking, sorting and identifying parts.
AMETEK have been successfully inspecting metal surfaces for more than a decade. In fact, AMETEK systems inspect over 200,000,000 square meters of metal every day. AMETEK have more metals customers worldwide than anyone else in the industry, and more companies guarantee their product quality with AMETEK systems than with any other surface inspection system. Their Smart View Metals inspection system can help you to reduce overall operational costs and optimize processes
Additionally, the SmartView Metals system helps you to:
Improve product quality
Maximize yield
Minimize the need for manual inspections
Generate inspection reports
Decrease the number of customer returns
Ensure more thorough and objective grading of materials
Detect, identify and visualize defects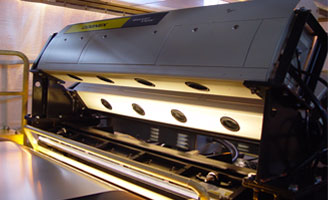 In Steel industries, AMETEK has supplied inspection system on various equipments / lines as mentioned below:
Hot Mill
Pickling Line
Annealing Line
Cold Rolling Mill
Temper Mill
Electro Galvanizing Line
Electro Tin Line
Hot Dip Tin Line
Coating Line
Inspection Line
Typical metal defects are as follows:
Holes
Roll Marks
Laminations
Sliver
Scale
Edge Cracks
Slip Marks
Scratches
Dents
Pits
Pipe
Acid Spots
Wrinkles
Pick Up
AMETEK can help you increase your manufacturing competitiveness, enhance your business and improve and control your production operations with the widest range of vision products.