Nordmeccanica Group is the one leader in the field of manufacturing of Coating and Laminating machineries.
Mr. Antonio Cerciello has been at the head of the Company since 1998 and has succeeded in achieving the high standard of quality that characterizes Nordmeccanica Group. His deep knowledge of the market and his undisputed managerial ability has brought Nordmeccanica to a well-established position of leadership in the world.
Mr. Antonio Cerciello is very strongly supported by his sons: Mr. Vincenzo, the engineer, who is the Technical Director and Mr. Alfredo, the Finance Director.
Nordmeccanica is the largest manufacturer of Coating and laminating machinery for Flexible Packaging, Industrial and Pharmaceutical applications. During more than 30 years the Company has delivered globally to the industry more than 2000 machines. Among them state of the art 3-ply laminators in one single pass: Triplex; high performances coaters and laminators: Combi Horizontal; as well as innovative compact machinery for Solvent Free lamination: the Simplex line of products. Nordmeccanica, thanks to the integrated design, the use of quality components and the recognized value for money of the products, is holding strong on the leadership position.
NORDMECCANICA RANGE OF LAMINATORS
Solventless Range of Laminators
This is the most complete range on the market; it is in fact designed for all types of processing requirements: from the basic Simplex SL to the totally automatic Triplex Compact SL, with which three layers of material coated with solventless adhesive can be laminated in one single process.
Triplex SL One Shot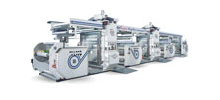 Triplex Super Compact SL 600
Duplex SL HD "Heavy Duty"
Super Duplex Compact SL 600
Super Simplex SL
Super Simplex SL HD "Heavy Duty"
Simplex SL
Combi Range of Laminators
These machines offer great processing flexibility thanks to the drying system and to the highly reliable technology developed by Nordmeccanica for its interchangeable coating heads. When the Combi model is equipped with the special coating head, it is possible to:
produce laminated sheets by means of both dry and wet processing;
use adhesives or coatings both water-based and solvent-based;
apply "Cold Seal" adhesives for register printing on pre-printed reels;
laminate materials with the use of "solventless" adhesives.
These machines can be configured to laminate up to 5 layers in one single processing. The technology applied to the drying ovens includes two versions:
Vertical structure, extremely compact and reliable;
Horizontal structure, offering an optimum quality / performance ratio
Coating unit
Labo Combi 400
Multilayer
Triplex Combi Vertical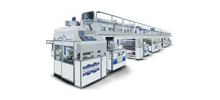 Triplex Combi Horizontal
Duplex Combi Horizontal
Duplex Combi Vertical
Duplex Combi Horizontal Shaftless with Primer Unit
Super Combi 3000
Super Combi 3000 Tandem (with Super Combi 3000)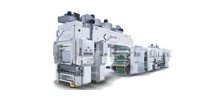 Super Combi 3000 Tandem (with Super Simplex SL)
Super Combi 3000 Wet
Super Combi 3000 Matik
Super Combi 3000 "Heavy Duty"
Attachments and Accessories
The World Mixer is available in the following versions:
Standard
Automatic refilling Fitted with an automatic adhesive refill system, by means of four 200-kg drums (2 for the adhesive and 2 for the hardener).
Pump assembly Use of transfer pump
Reel-lifting trolley (Electronic)
Reel-lifting trolley (Manual/Electronic)
Reel-lifting trolley (Manual)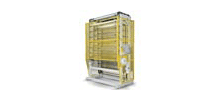 Reel storage magazine